Pleiada Boutique Hotel
Plus Wedding Menu
Pleiada Events team invites you to the world of details that make the difference. When you have your event organized, your worries go away. Your wedding must and will be the most beautiful event in your family life. Step on the right foot in a new beginning and say "YES!" at Pleiada Boutique Hotel, choosing one of our distinctive halls.
The personalized menus and the assistance in planning the party will convince you to come back to us on the christening of your child, when we will welcome you with surprises and loyalty offers.
Get in touch with our team and enjoy a five-star wedding!
• Day After Wedding Brunch
Includes: amuse-bouche, soup, still mineral water and coffee
(offer available for up to 30 guests)
• Open Bar (refreshing drinks, coffee)

Wedding Gifts
• For the wedding ceremony we offer cakes, champagne and our services (offer for up to 30 guests)
• 5٭ matrimonial room for the bride and groom
• Bachelorette party at Pleiada SPA (offer available for up to 10 guests)
• Honey day - a day of absolute relaxation for the married couple by the pool and SPA, indulgence and couples massage
• Mimosa Cocktail for your guests
• Personalized tasting menu
• 4 menus for the bride and groom and their godparents
• Photo Booth and Guest Book
• Maquette cake chosen by the bride and groom
• Consultancy for organizing the event
• Full mise-en-place (the mise-en-place does not include flower arrangements)
• 30% discount for the accommodation of guests on the event night
(the discount applies to the prices available on the event date)
• 20% discount for Day After Wedding Brunch
• 10% discount for the next event organized at Pleiada Boutique Hotel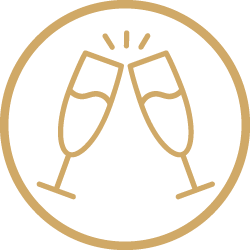 Event hall
Atlas Hall
150 - 260 seated guests
Concordia Events
60 - 120 seated guests
Taas Events
Up to 50 seated guests
Burgo Events
Up to 40 seated guests

Terms and conditions
• No additional fees.
• Availability of reservation – 7 calendar days.
• Retainer of 2,000 ron.
• Confirmation of final number of guests – 3 calendar days before the event.
• Prices include VAT. Payment will be made in RON, at the exchange rate published by NBR on the contract date.
Maia Restaurant
Maia Fusion
The A La Carte Menu makes Maia Fusion the ideal choice for those who wish to experiment sophisticated international recipes.
Its professionals provide the necessary support in organizing, running and optimizing the events, according to the set criteria.