Pleiada Boutique Hotel
Silver Wedding
Pleiada Events team has developed menus according to types of family events. Since the 25th wedding anniversary is a special moment, we offer the best packages and deals to those who choose us, with a focus on the details that make the difference.
You feel the anniversary as a genuine celebration when you enjoy yourself at your own party. We invite you to enjoy the five-star facilities in a relaxing special atmosphere, while getting rid of the strain caused by the event organization and details.
We raise up to your expectations and make the events memorable until your golden wedding anniversary. The four halls (Atlas Hall, Concordia Events, Taas Events, and Burgo Wine Cellar) at Pleiada Boutique Hotel hold space for multiple arrangements, while each of them has its own specificity to fit all tastes: from very elegant and refined to fresh, unconventional, and original.

Meniu
• Open Bar (Jameson, Baileys, white wine and rosé
Refreshing drinks and coffeea)

Wedding Gifts
• 2 menus for the bride and groom
• Honey day - a day of absolute relaxation for the couple by the pool and SPA, indulgence and couples massage
• Standard flower arrangements (based on contract terms)
• Mimosa Cocktail for your guests
• Consultancy for organizing the event
• 30% discount for the accommodation of guests on the event night (the discount applies to the prices available on the event date)
• 20% discount for Day After Wedding Brunch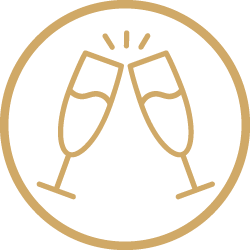 Event hall
Atlas Hall
150- 260 seated guests
Concordia Events
60 - 120 seated guests
Taas Events
up to 50 seated guests
Burgo Events
up 40 seated guests

Terms and conditions
• No additional fees.
• Availability of reservation – 7 calendar days.
• Retainer of 1,000 ron.
• Confirmation of final number of guests – 3 calendar days before the event.
• Prices include VAT. Payment will be made in RON, at the exchange rate published by NBR on the contract date.
Restaurant Maia
Maia Fusion
The A La Carte Menu makes Maia Fusion the ideal choice for those who wish to experiment sophisticated international recipes.
Its professionals provide the necessary support in organizing, running and optimizing the events, according to the set criteria.